Rijschool Campus is the driving school in Delft and the surrounding area. Our driving school differs itself from other driving schools because we offer driving lessons in a personalized and structured way.
Driving School Campus is active in the surrounding area of Delft. So when you live just outside Delft it is no problem to follow driving lessons at our driving school in Delft. We make sure that every student is picked up at home and of course dropped off at home when the driving lesson has ended.
Driving lessons in Delft and surroundings
All of our driving lessons in Delft are given by permanent instructor. The advantage of a permanent instructor is that our instructor has the possibility to analyze the driving lessons of each student and on this basis can decide which parts should be given extra attention to. We also give driving lessons in automatic cars.
As a result, this means that our students will be prepared as well as possible for the driving test. This excellent preparation is one of the reasons that our driving school Delft has an excellent success rate.
High success rate
Driving school Delft Campus is known as the driving school of delft with one of the highest success rates. Although we are very proud of this, we aren't surprised. Every day we work together with our students to achieve this high success rate. For example, we use a special 'instruction card' and we record every driving lesson with a dashcam.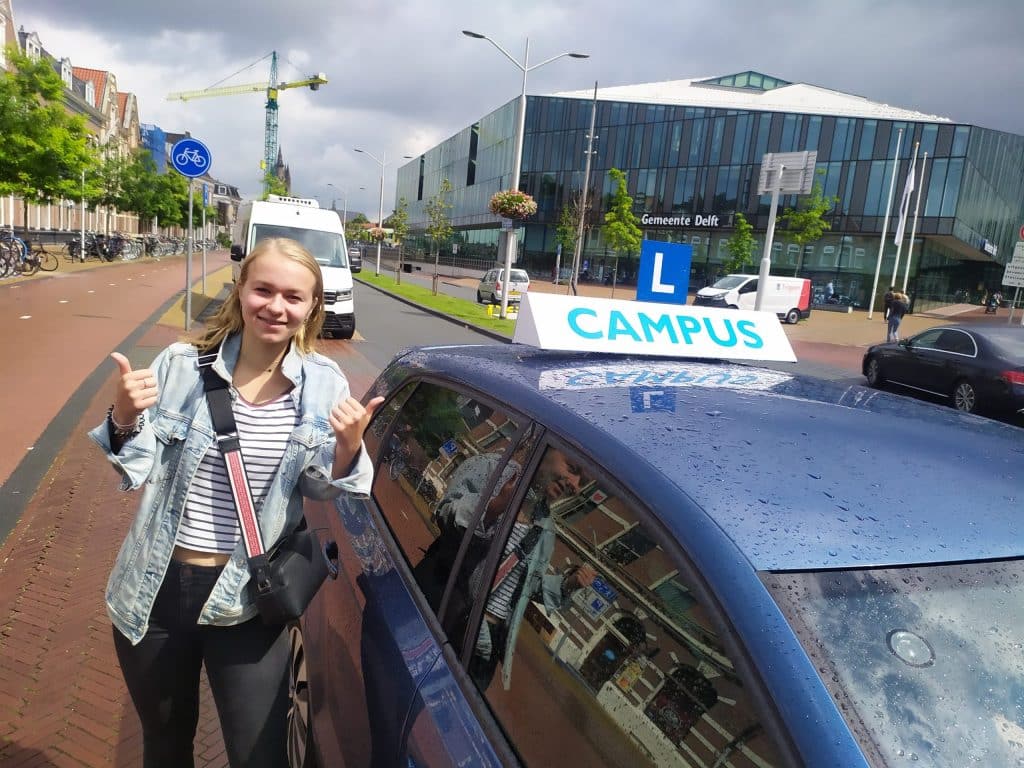 Instruction card
Our driving school in Delft, driving school Campus we use an instruction card. This instruction card allows us to accurately track the progress of our students during the driving lessons. For example, the instruction card keeps track of what went well during the driving lessons or what went less well. By keeping track of this every lesson, the instructor is able to create a good picture of student's progress. This has the advantage that in the future the lessons can be tailored to the parts that the student has more difficulty with. This is why we are called the driving school of Delft.
Dashcam
In addition to using an instruction card to analyze our students' driving lessons, we also use a dashcam. A dashcam is a camera (on the dashboard) that is aimed at the road surface. The dashcam films the full driving lesson of the student. The advantage of this is that we can analyze these driving lessons together with our students and see for each situation what went wrong or what went right. Our experience has shown that students really like this and, in addition, these recordings also ensure that the student becomes more aware of his or her own driving behavior
The other advantages of our driving school Delft
Smoke-free car
Not only do you benefit from the advantages mentioned above at the Campus Driving School, such as the introduction card and the dashcam, but you also benefit from other advantages at our driving school in Delft. For example, we only use a smoke-free car. We attach great importance to the health of our students and a car in which smoking is allowed certainly isn't part of that.
Specialized in students with ADHD or ADD
Are you someone with ADHD or ADD? No worries, because these students can also partake in driving lessons at our driving school in Delft. Our instructor has a lot of experience with students with ADHD or ADD, which means that the instructor is able to professionally guide these students to the final exam.
Request a trial lesson?
Would you like to request a trial lesson at driving school Campus? That is of course no problem. You can easily schedule a trial lesson via our website, but it is also possible to contact us to request a trial lesson or for other information. We can be reached by telephone or by e-mail. Call 085 130 1448 or send an e-mail to info@rijschoolcampus.nl. We are available every day to answer all your questions. Can't wait to get your driver's license quickly at a favorable rate? Then register now at the driving school Campus, the driving school in Delft and the surrounding area.
FAQ Driving school Delft :
? Does driving school Campus gives lessons in English?
Yes, we give driving lessons in English. Our driving instructors are specialized in giving lessons in English.
? Where does Campus gives driving lessons?
We give driving lessons in Delft and other places nearly by Delft. We always pick you up and drop you at your destination.
? How many years experience?
We have almost more than 10 years experience, in giving driving lessons to our pupils.
? Is the first trial lesson for free?
The first trial lesson cost €40,- for 100 minutes.